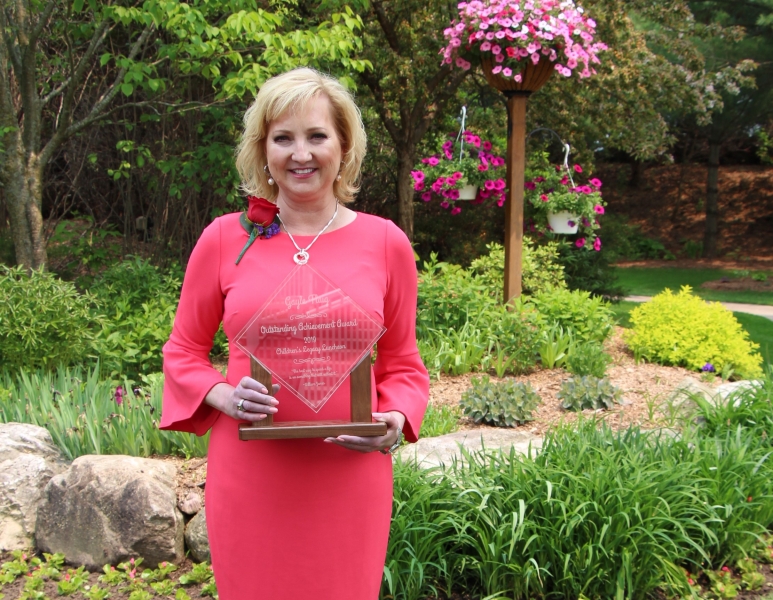 Gayle Flaig, Administrator of the Early Childhood Programs for Regis Catholic Schools, is a strong advocate for early childhood education. On May 30, she was recognized for her hard work and dedication.

Flaig received an Outstanding Achievement Award at the 18th annual Children's Legacy Luncheon in Eau Claire. The event, presented by the Children's Museum of Eau Claire, honors individuals who have made important and lasting contributions on behalf of children in the Chippewa Valley.

Flaig helped open the Regis Child Development Center in September 1991 and later the Genesis Child Development Center in September 1998. Over the past 27 years, both facilities have cared for thousands of young children ages 6 weeks to 12 years.

The first Children's Legacy Luncheon event was held in 2002 with the intention of creating awareness of special issues regarding the welfare of children in our community and raising funds to support nonprofit organizations serving them. For the past 17 years, the Children's Legacy Luncheon has recognized individuals who have made a positive and long-lasting contribution to the lives of children in the Chippewa Valley through innovative work, leadership, volunteerism, or philanthropy. Flaig is now a member of a prestigious group of honorees who have made a difference for children across the area.

Congratulations, Gayle! We are blessed to have you as part of our Regis Catholic Schools family!