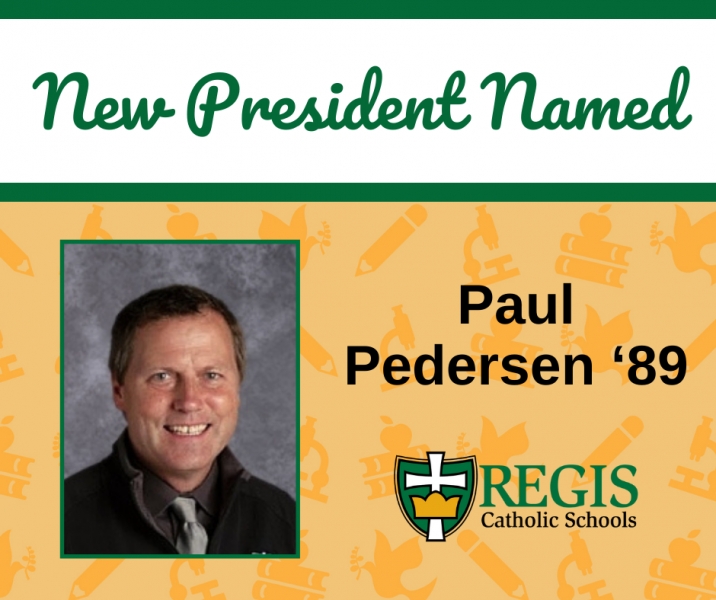 We are pleased to announce Paul Pedersen '89 has been named the new President of Regis Catholic Schools.

Mr. Pedersen has served as our Regis High School and Regis Middle School Principal for the past seven years, making him the 3rd longest serving principal of Regis High School since 1963. Prior to that, Mr. Pedersen served as a classroom teacher and middle school athletic director at Notre Dame Middle School in Chippewa Falls and later as a classroom teacher at Regis High School and Regis Middle School, giving him 26 total years of experience in education.

The Pedersen family has a long history of pride in Catholic education. In fact, Mr. Pedersen is a third-generation graduate from a Catholic school in the Diocese of La Crosse. His grandfather (Robert Knutson '45, La Crosse Aquinas), parents (Dan Pedersen '69 and Jane (Knutson) Pedersen '69), and sister (Jennifer (Pedersen) Roach '93) are all Catholic school graduates. Mr. Pedersen's three children (Jacob Campbell '07, Jenae (Pedersen) Florke '13, and Cameron Pedersen '15) are also proud Regis High School graduates.

"It is with excitement and honor that I serve our community as the next Regis Catholic Schools President," Mr. Pedersen said. "As an alumnus, I am filled with tremendous pride to be given the opportunity to lead our school system into the future while preserving its time honored traditions and excellence from the past. Learning Today, Leading Tomorrow has no finish line."

A committee of fourteen people, representing various groups of stakeholders within the Regis Catholic Schools community, assisted in the candidate selection and interview process. We thank them for their time and service. After prayerful consideration and taking into account feedback from the committee, Fr. James Kurzynski, Dean, offered the position to Mr. Pedersen earlier this week.

"During Mr. Pedersen's interview, his passion and excitement to move Regis Catholic Schools forward was abundantly clear. He offered a comprehensive 90-day action plan that greatly impressed us. I look forward to Mr. Pedersen sharing that vision with the Regis community as we continue to strengthen and grow our Catholic schools. We have full confidence in his ability to serve as a dedicated and knowledgeable leader of our school system," Fr. Kurzynski said.

"Catholic education is more than a job to me. It's my passion and life's work and I am humbled to serve in this role," Mr. Pedersen added. "Faith is at the center of everything I do and I consider it a blessing to be able to represent and serve our alumni, current students, families, and supporters."

We thank Carisa Smiskey for filling the role of Interim President for Regis Catholic Schools during this school year. Mrs. Smiskey will continue to serve as the St. Mary's Elementary School Principal.

"I very much appreciate Mrs. Smiskey taking on the responsibility of two important and time-intensive positions to help us keep moving Regis Catholic Schools forward. Your dedication has been truly inspirational," said Fr. Kurzynski.

Mr. Pedersen will officially fill the role as Regis Catholic Schools President on July 1, 2022, but will begin the transition process following the end of the current school year. A search for a new Regis Middle School and Regis High School Principal will begin immediately.

We ask you to keep Mr. Pedersen, Mrs. Smiskey, and our entire Regis Catholic Schools system in your prayers during this time of transition.