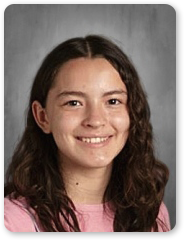 On March 5, Kylie Pope, a 7th grade student at Regis Middle School, died unexpectedly. We ask you to please keep the Pope family in your prayers during this most difficult time and the journey they are embarking on.
As we come together as a community to support the Pope family, Regis Catholic Schools has set up a memorial fund in Kylie's honor for those who would like to make a financial donation.
To donate, please bring cash or check to your school's office or to the Regis Catholic Schools Central Office, located at 2728 Mall Drive in Eau Claire. (Please include a note that you are donating in support of the Kylie Pope Memorial Fund. Checks should be made out to Regis Catholic Schools.)
You can also donate online using the PayPal form below. (You will have the option to indicate your willingness to offset the cost of the PayPal processing fee as you make your online donation.)
All donations will be directed to the Pope family.
Saints of God come to Kylie's aid.
May the angels carry her to God's loving arms.
Eternal rest grant to Kylie O Lord,
And let perpetual light shine upon her.
---
Kylie Pope Memorial Fund Donation Form